Education and Professional Background
Evelyn Klein holds a B.S. in Secondary Education from the University of Wisconsin-Milwaukee and an M.S.T. in English from the University of Wisconsin-River Falls.
Evelyn taught in the public schools in Wisconsin and Minnesota, at Century College, and at the Loft Literary Center. She presently is a writing consultant, editor, and independent scholar.
Publications
_____Her articles, essays, and poetry have appeared in numerous newspapers, journals, and anthologies, including the Saint Paul Almanac, The Wind Blows, the Wind Breaks, MJA Elements, The Minnesota Scholar, and This Was 2020. She is a prize-winning poet with the Family Housing Fund's "Home Sweet Home Again" exhibit in Minneapolis and the Minnesota Jung Association, among others.  She edited the poetry anthology Stage Two Poetic Lives with illustrations by her father, Wolfgang Klein, as a result of facilitating a poetry group at the Loft Literary Center. Currently, she is editor of The Minnesota Scholar and her own newsletter The Write Connection.
_____Her first three books of poetry, prose, and art include Her poetry memoir, From Here Across the Bridge, illustrated with woodcuts by Wolfgang Klein, published in 2006, and won a cover award from the Midwest Independent Book Publishers Association.  Once upon a Neighborhood, a book about the community in the Twin Cities, published in 2009, and Seasons of Desire, a book about seasons of living and following one's dreams, published in 2012, are composed of poetry, prose, and Klein's own artwork.  All three books can now be found in the Minnesota Historical Society's permanent library collection  
_____Her latest book, Fear and Promise, Remembering the Year 2020, was released in the spring of 2020.
Literary and Artistic Background
At an early age, I found my way into writing. Writing was something I enjoyed because it felt so right. Writing and literature and language itself were always my favorite subjects in school. They were like an excursion into secrets of living. So naturally, I chose to study this area as part of my secondary education route into teaching. Soon love of writing led to long letters home, then to professional writing, newspaper articles, and poetry in my spare time. Yet it took a study of Virginia Woolf, seven years of facilitating a poetry group at the Loft Literary Center in Minneapolis, and the editing of a poetry anthology for the writers' group entitled Stage Two Poetic Lives, before I was ready to publish my first book of poetry, From Here Across the Bridge.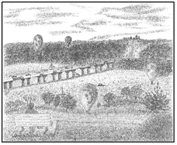 I now find inspiration for writing and art in the pages of living, in people, family, nature, particularly in long nature walks. Sometimes, it is hard to know how to start the creative venture, with a drawing, a poem, a story, or an essay.
©2022 by Evelyn D. Klein. All rights reserved.